Hey guys, I know this is getting a bit too far now. It seems
as if I have a never ending eye-shadow wishlist but oh well, blame the brands that
make such awesome products!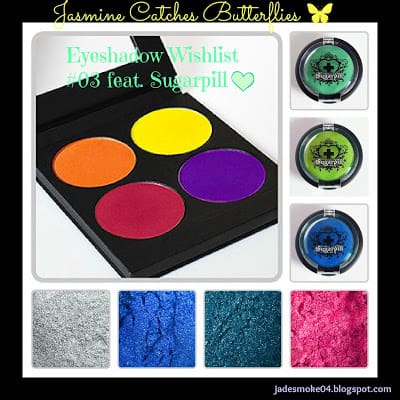 So, this lovely girl named Hanna Majava from
Makeup by Hanna
has totally gotten me head over heels in love with
Sugarpill
's eye-shadows!
These are the most pigmented and vibrant eye-shadows that I have ever seen in my
entire life!! Hanna uses these in addition to
Lime Crime
cosmetics (who knows
another wishlist might pop up!) A LOT and let me tell you, she is the dopest
blogger I know when it comes to themed makeup. I found her through
Aqeela'sWeekly Makeup Tags
and I'm so glad I did. You must check her blog out. She does
tutorials too!
Coming back to
Sugarpill
cosmetics, you might like to know
that they do vegan makeup too and most of the eye-shadows that I have picked are
vegan. Apart from this,
Sugarpill
also has a good range of dramatic eyelashes.
Go to their
website
for more on that.
Here are my picks from
Sugarpill
eyeshadow range:
Burning Heart: (Top Left to Bottom Right) Flamepoint, Buttercup, Love+, Poison Plum
Mochi
Midori
Acidberry
Velocity
Decora
Tiara
Magpie
Royal Sugar
I don't think these are available in Pakistan so I'll
definitely be asking my relatives abroad to bring me these whenever they pay me
a visit.
(I've added links to as many of the listed products as I
could find.)
Anymore Eye Makeup Suggestions? 😛