Your face is like a canvas and you get to be artist 🙂
All you beginners out there, this is a step by step introduction to makeup 🙂
Please remember that when it comes to makeup, a little goes a long way. So kindly make sure that you do not cake-up your face!!
Lets get started!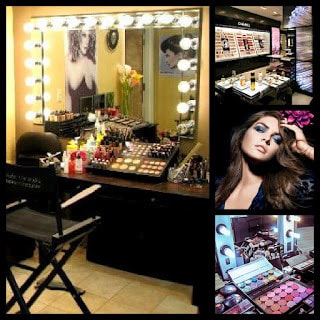 Note: Before you begin, wash your face and moisturize it.
1. Primer: Before you put on your makeup, you might want to use a primer though this is optional. There are two types of primer; one is for your eyes and the other one is for the rest of your face. A primer basically allows your makeup to set well and last longer.
2. Foundation/Tinted Moisturizer: For evening out your skin tone and providing a base for your makeup, you need to apply foundation. Foundations are available in various forms. If you have dry skin, you should probably go for liquid or cream foundations, whereas, if you have got oily skin, you should use stick or compact foundations. Though, I personally believe that liquid foundation gives you a more natural look and there are liquid foundations available for oily skin as well. On the other hand, if you've got good skin naturally than you might just want to use a tinted moisturizer for a perfect finesse or just adding colour to your skin.
3. Concealer: Concealer helps in hiding all your blemishes, so just dab some on your spots and you are good to go.
4. Powder: Just lightly use pat powder on your face and it just gives your base a smooth finesse and prevents shine. You can all do a re-touch over your complete makeup look for refreshing it up.
5. Bronzer: Bronzer is used for contouring and this helps in highlighting the bone structure of your face. This is basically used on forehead, hollows of cheeks and on the sides of your nose to make it look smaller and thinner.
6. Blush: Our cheeks are a bit pink naturally, but when we smooth on our base, we actually hide that color, and to restore that we wear blush! Blushes are also available in various forms like cream, powder, gels or and stains. Again, you get to choose whatever suits your skin type or what you prefer.
7. Eye-shadow: There are umpteenth options available when it comes to eye-shadows. You get them in every colour and type. Choose them in accordance to your outfit. There are a number of ways in which you can apply your eye-shadow. Experiment and customize according to events.
8. Liner: Eyeliners make your eyes to appear larger and brighter. You have the option of either picking pencil liners or liquid liners. They just beautify your eyes more and there are colour options available in them.
9. Mascara: Mascara makes your eyelashes to appear bigger, thicker and longer and people think it's pretty flattering to have long, beautiful lashes. There are again colours to choose from according to your eye colour or style.
10. Lipstick/Lip gloss/Lip Tint: Lipsticks or lip glosses add a finishing touch to your makeup. For a more natural look you can use neutral or pastel colours or lip tints.
Bonus: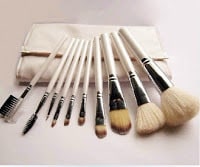 11. Basic Brushes: Concealer Brush, Foundation Brush, Powder Brush, Blush Brush, Eye-shadow Brush, Eyebrow Brush with Lash Separator. These are the types of brushes that you'll be needing for different purposes as their names suggest. However, you do not need to buy them all at once. You can juggle between a couple of brushes when you just begin.

12. Extra Tools: Beauty Blender, Makeup Sponges, Eyelash Curler, Tweezers, Pencil Sharpeners, Q-tips, Cotton Balls.
Photo Credits:
Google Images
Please follow and comment for your feedback.