Recently I bought some oils and beeswax to use in bath and make some balms. I was also looking for tea-tree oil but couldn't find it so I turned to my fellow bloggers for help and they came up with some suggestions. The most common answer was The Body Shop.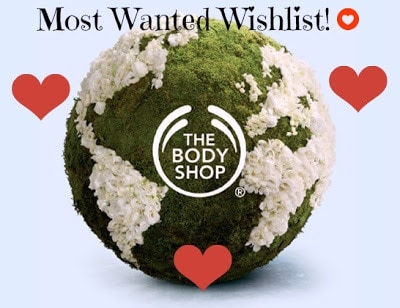 Now, I've been to The Body Shop quite a few times but I always left empty handed because I just felt so overwhelmed by the variety that I couldn't decide what I should buy. So, I was surfing (read: drooling on) The Body Shop's website the other day in order to check out their tea-tree oil and I ended up making a wishlist of what other things I wanted from there. I read the product descriptions and googled up whatever I really thought I would love, for reviews and here is what I have put together.

1. Chocomania Body Butter: I was double minded about whether I should get the coconut or the chocomania one but I ended up deciding chocomania even though I had initially made my mind for coconut!
2. Chocomania Mini Soaps: OMG! These soaps are just so cute and they actually look edible! I think these would be really good for skin as they have real cocoa butter and coconut shell for exfoliating.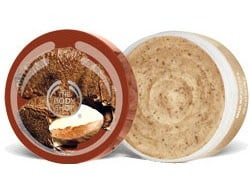 3. Brazil Nut Body Scrub: This one used to be in their permanent range but then they took it away and earlier this year they brought it back as a limited edition product. I don't know how long it will stay and whether it's available here or not but I am really keen to try this as I've heard this one was a bestseller. If it has gone already, I'll wait for them to bring it again while I might try another one from their range. Which one would you suggest?
4. Tea Tree Pore Minimiser: I would be getting tea tree oil separately, maybe from somewhere else, but I thought this product and the next one are what I should also try. I have never used a pore minimiser and this would probably be my first one. The reason I want this is that it is a primer as well and tea-tree oil is known to eliminate blemishes so it would work under my makeup and do good to my skin.
5. Tea Tree Night Lotion: Again, I have never used a night cream so I think this would be a good start.
As you can tell I am not a fan of The Body Shop makeup yet but I would love to try their skin care products and they have just sooooo many of them. It was really difficult to short-list what I really wanted but I surely would try the others too later on. I even have their Pink Grape Fruit Body Mist in my Coral-Red-Orange Shade Wishlist.
I wish The Body Shop launches a website for Pakistan as well as they do really good deals and discounts online and when they do, I surely would buy just about everything!
The Body Shop International Website.
The Body Shop Store Locator.
Do let me know what else I should try! 🙂 x