I was quite fascinated by the Garnier BB cream initially and had thought about getting my hands on it, but after reading such mixed reviews, I just got double minded and couldn't decide. I asked around, and one of Etude's BB cream (not this one) came up as a suggestion. Knowing that Etude House is a Korean brand and Asian BB creams are known to be the best around, I read a few reviews and was ready to give it a try as it seemed quite promising.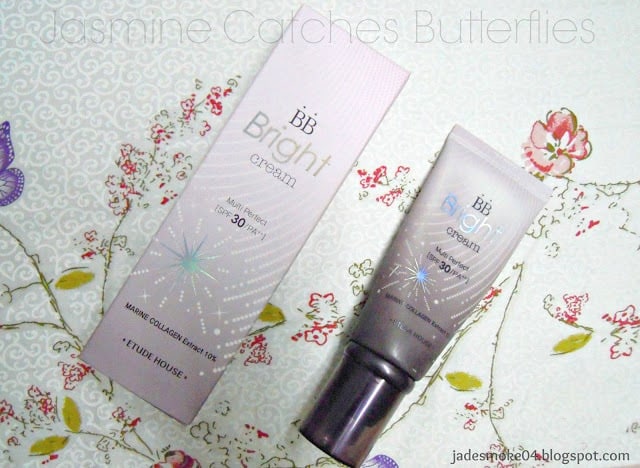 Etude House BB Bright Cream contains 10% Marine Collagen extract which is a fibrous protein derived from fish scales, and it's supposed to be anti-aging and very good for overall skin health. You can google or read more about the benefits of Marine Collagen here. This BB Cream has a slight powdery, floral scent which isn't at all overpowering, and it has a convenient pump to dispense product, but 1 pump is A LOT. Even though initially, you might think that the tube seems somewhat empty on the top, but this is how most of Korean BB Cream tubes that I have come across look like and you can definitely get a lot of uses out of it as a little goes a long way. I must say that the consistency of this BB cream is quite fine. Not too runny, not too thick and yet it can provide a decent coverage and does not feel heavy on the skin. A major plus with this product is that you don't need to wear a sunblock and can just go out with this on as it has SPF 30 which I think is great.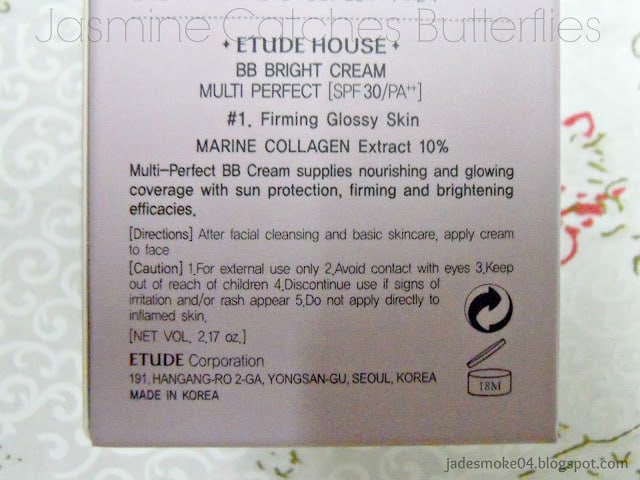 I can't say much about the product claims as everything on the back and sides of the box is mainly written in Korean but there is a small description in English at the back too, and what I have gathered from that information is that it is supposed to be brightening and firming. Apparently, this is considered the Etude House's best BB cream, and I have read mainly good stuff about it, but I am quite disappointed with my own experience. The formula is not very moisturising for me, and it's not very smooth to apply though you can work with it. This is indeed a tricky product to apply, and if you use more and don't blend well, it can settle into fine lines and make you look like a ghost. The major downside for me was the shade and unfortunately this is the only shade that it comes in. Since, it does not match me, it appears quite ashy and also leaves a white cast due to the SPF in it so this probably is more suitable as a day time BB cream.
What actually happened was that I was suggested Etude House
Mineral
BB Cream but once I went to the Etude counter in Naheed, this was all they had. I asked that aren't there any other BB creams from the same brand and I was told 'nooo'. Seriously, makeup counters here should hire some professional girls who at least know about the brand they are selling! The salesgirl swatched it on my arm and instantly I was like, 'oh no, this is too 'white', isn't there another shade?! ', and she was like 'noooo, this is the only one, and it's supposed to suit all skin tones', she blended it on my arm and in that lighting, it eventually did blend and looked fine.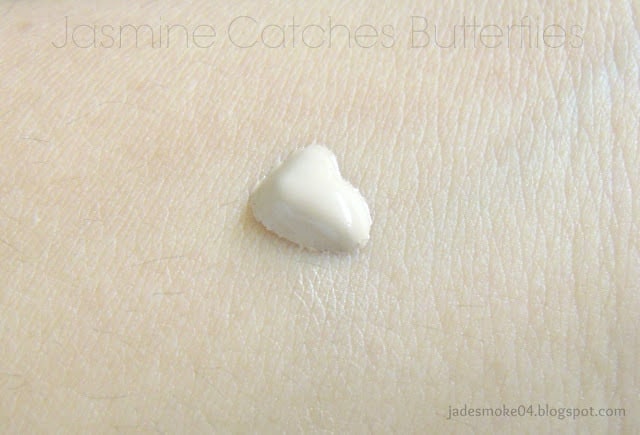 Etude House BB Bright Cream Blob
When I stepped out in the sun, it looked beautiful and sort of iridescent on my arm. If you notice the swatches, you can see it cuts down a lot of the yellow in my skin. By the way, unlike most people my face and neck are actually darker than the rest of me as they are the only parts exposed to the sun most of the time. Let me describe my body's varying skin tones to you in the best possible way. If you categorise a wheat-ish complexion, that is the common Asian complexion with a lot of yellow undertones, you get 3 basic variations. First one being fair wheatish which is the complexion of my legs, then you have mid-toned wheatish which if you mix with fair wheatish is the complexion of my arms and then there is dark wheatish which if you mix with the mid-toned is the complexion of my face and neck.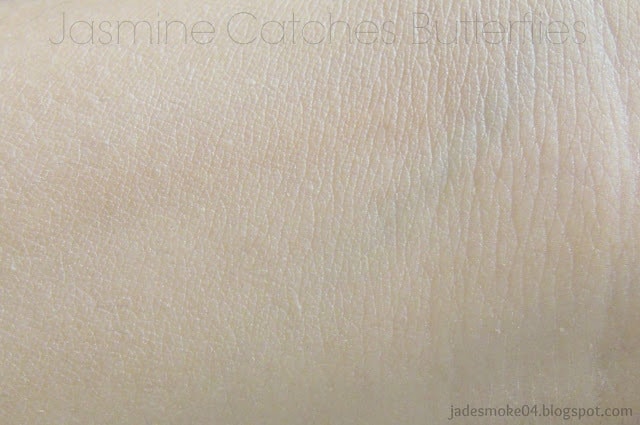 Etude House BB Bright Cream Blended
(There may be lighting differences between the two photos due to sun.)
Now, I know, I know, you are supposed to test shades on your jawline etc but I have really sensitive skin and my hands aren't always sanitized to rub them on my face. I should have tested this better and should have gone through more reviews etc, but I was to go shopping the very next day I had asked for suggestions and therefore had little time to decide. Anyways, once home I tried it on my face and my earlier reservation proved to be right. I tried to do a half or quarter pump to make it work for me. Used my fingers, used my brushes and yet nothing worked! It was just so hard to blend it in on my face as compared to my arm even though it looks too light shaded for both initially.

This BB cream would obviously suit someone with a fairer complexion. Honestly, the shade got it all messed up for me. I'm just saving it for some themed party as it can be slathered on generously, giving the look of a new, different skin which would mask your real one and won't really match the rest of you in normal days. Or I might just give it away to anyone who thinks it would suit and work for them.
There are other BB creams offered by Etude House, and they do even come in multiple shades though apparently they aren't readily available in Pakistan. As mentioned earlier, this one does not come in any other shade but it definitely isn't for every skin tone.
Price: 885 PKR (I could have gotten a decent foundation by topping up more bucks but this is much more expensive in most places.)
The Etude House BB Bright Cream is hard to find online as results show that it has been discontinued, but I bought mine recently at Naheed and you can check your local supermarket for this if you live in Pakistan. While, if you live abroad, you can check here.
I had decided I won't review this product as the shade didn't match me but after getting a few requests on my Mini Makeup Haul and knowing that people are really considering buying this, I felt it was my responsibility to review it for you lot and let you know whatever may help.
Hope this helped all those who were waiting for me to review this BB cream. For any questions or queries, leave me a comment below and I'll try to revert asap.

Bloglovin' | Facebook | Twitter | Pinterest | Goodreads