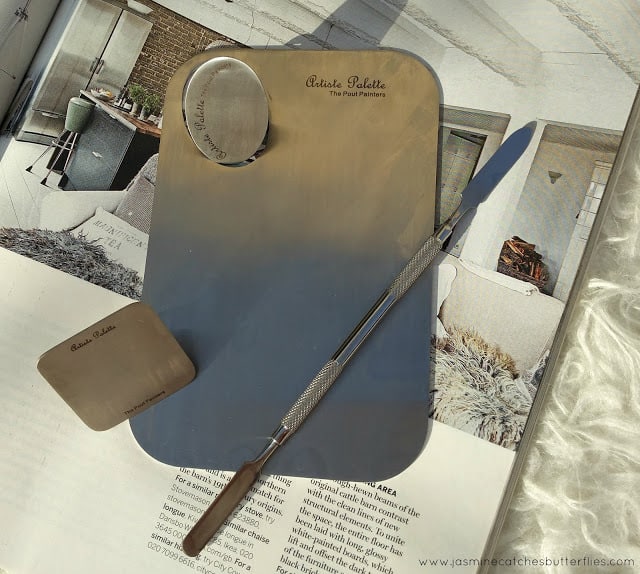 Artiste Palette by The Pout Painters
PR Sample*
The Pout Painters, Fizzah and Sadaf, who are my favourite beauty blogging duo, came up with their own range of makeup mixing palettes called Artiste Palette. These girls are extremely knowledgeable and they know their stuff well so it was smart of them to launch something that is not readily available, especially in the local market.
Now, the kind of skin tone that I have, it is usually required for me to mix my foundation shades and I have been doing so for a long time on the back of my hand. I know some people mix their makeup on the lid or back of their powder compacts, et cetera, but I do not find it hygienic at all and I already have sensitive skin so I would never even want to risk it. Anyways, I do not like to get my hands covered in makeup either as it can always accidentally get smeared on my dress and some of it gets absorbed hence wasted too. Also, some foundations like the Massarat Misbah Silk Foundation* or cream eyeshadow products can stain the skin and it can be a pain to wipe them clean at the last minute right before rushing out the door. Furthermore, with products like L.A Girl Pro HD Concealer, which comes in a squishy tube with a brush applicator, direct application to face can be tricky as excess product often gets dispensed and since I used it for contouring, too much product can be troublesome to blend.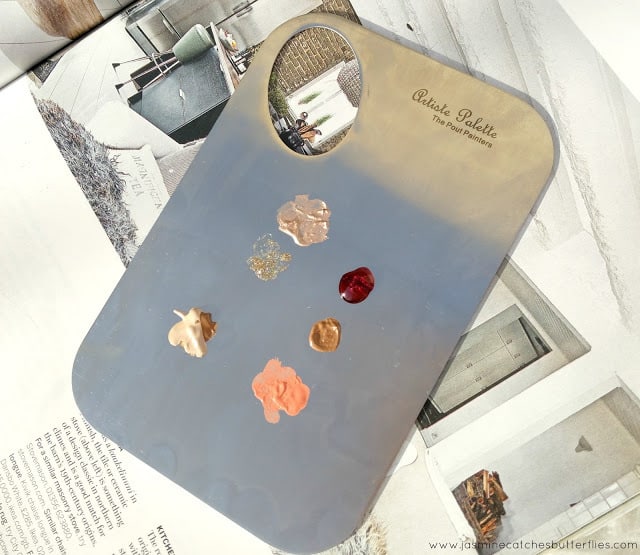 So, this is where Artiste Palette comes in handy. Currently, the brand has three stainless steel mixing palettes which can be bought with or without their stainless spatula. You can find the separate low-down on each below.
1. The Pout Painters Artiste Palette
This is a full-sized makeup mixing palette which is 15 cm long and 10 cm wide. It gives you a lot of space to mix your products, especially if you are working with a large quantity or different types and shades of makeup. This palette is pretty slim so it can be slipped into a makeup pouch and I like the fact that even though it is made out of steel and is absolutely sturdy, it does not feel heavy to hold.
You can also get a dual-ended spatula with this palette which can be used for scooping and mixing makeup products so that you do not have to get your fingers all grubby. One side of the spatula is rectangular and rounded while the other side is pointy and I reckon the latter is for scrapping harder substances. There is also a little bit of textured detailing on the shaft which I find convenient for gripping the spatula.
Price: 1200 PKR (with spatula), 1000 PKR (sans spatula)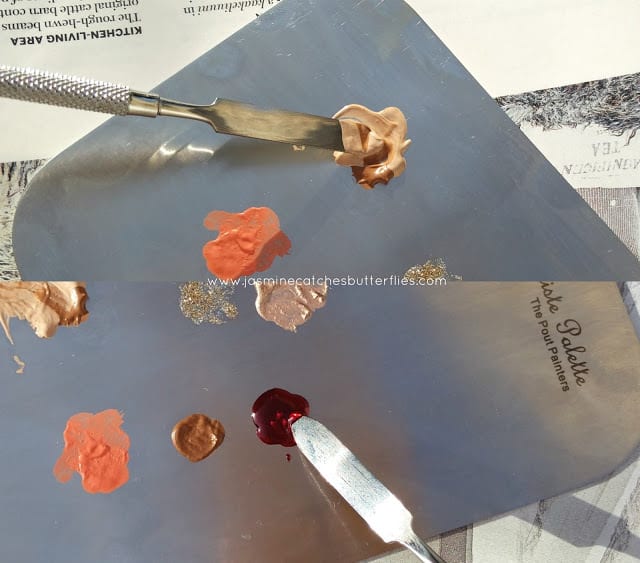 2. The Pout Painters Artiste Ring (Oval Version)
I must say that I was impressed to see the ring versions of the Artiste Palette as they are super convenient and a witty creation. The oval ring, in particular, can be the ultimate makeup artist accessory and due the look of it, it can be mistaken for an actual ring if somebody is not looking closely so it wouldn't appear obnoxious in public. It is 4.1 cm long and 2.9 cm wide so I mainly use it for mixing my foundation as it just has enough room for one product. The actual palette on this ring is made out of stainless steel and looks good as new even after months of use but I am not sure about the adjustable ring base as mine has rusted a little bit.
Just like with The Artiste Palette, you can also get a spatula with this ring.
Price: 800 PKR (with spatula), 600 PKR (sans spatula)
3. The Pout Painters Artiste Ring (Square Version)

This is the bigger ring of the two variants available as it is 4 cm long and 4 cm wide. So, you can choose this over the oval ring if you have to work with a slightly larger quantity of product. However, since there is not a significant difference in dimensions, the choice between the two rings can be based on personal preference. I personally like to use both of them so it is a tie for me. The ring base attached to this palette is also adjustable so you do not have to worry about finger sizes.
You can buy this ring with or without the spatula too.
Price: 800 PKR (with spatula), 600 PKR (sans spatula)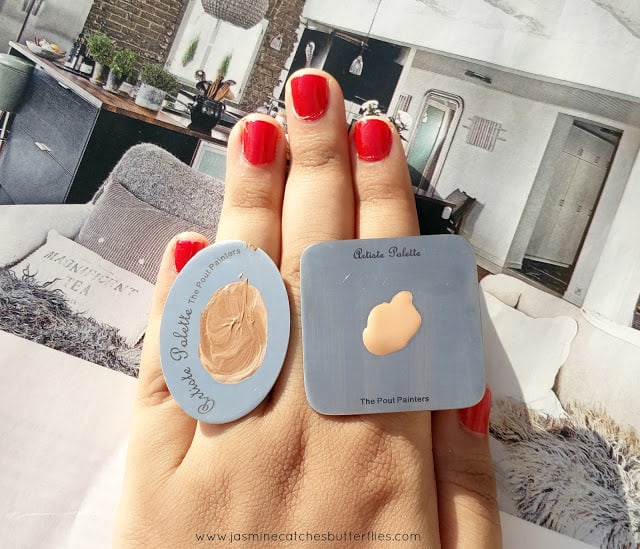 The Pout Painters have taken care of keeping the edges of the palettes rounded so you do not have to worry about cutting yourself and even the pointed side of the spatula is not sharp enough to hurt. I have been using these palettes for a couple of months already and they all are still in good condition without any major scratches or dents. To clean my palettes I first remove any leftover makeup product marks with a makeup remover and then wash them with a liquid soap or face wash. Just be sure to dry them properly right after the wash and store them away from humidity as the ring base on one of my rings rusted a little bit due to my own carelessness.
I am pleased with my collection of The Pout Painters Artiste Palette as it reduces product wastage and I do not have to worry about getting my hands stained with makeup anymore. You can use these for mixing not only your base products but also lipsticks and eye products. In fact, you do not necessarily even have to mix something on them. Instead, you can just scoop with the spatula and put the product on the palette from its container to work with the amount you require rather than exposing the whole of it to air.
This range of palettes is a must have for makeup artists but we all ourselves are turning into makeup artists day by day, thanks to YouTube for the heightened awareness, and you should mix like a pro too. So, if you think The Artiste Palette (big one) is a little too much for your everyday use then you can still always just get a ring and I am sure you will like the difference it makes.
To get your own set of The Pout Painters Artiste Palette, shop from
The Pout Painters
on Facebook.

Follow
(function(d, s, id) {var js, fjs = d.getElementsByTagName(s)[0];if (d.getElementById(id)) return;js = d.createElement(s);js.id = id;js.src = "https://widget.bloglovin.com/assets/widget/loader.js";fjs.parentNode.insertBefore(js, fjs);}(document, "script", "bloglovin-sdk"))