New Year is around the corner quite literally and I have gotten into the festive mood only now after my semester finals. While I feel absolutely excited about 2015, I don't think I will be actually going out on New Year this time, but I might be wrong. Nonetheless, I have put together an outfit idea for you guys and a chic night out nail art for which Julep inspired me as part of their 'Deck Your Nails' campaign. Enjoy!
For me comfort comes above all and therefore I'd actually prefer a jumpsuit over an evening dress when hanging out with the people I am close to on a new year eve. Navy blue is my formal wear colour and just to sass things up I'd use gold for accessorising. Keeping it simple with a two colour palette, I would pair a gold belt with the jumpsuit for the actual outfit and then throw on a gold watch, a gold box clutch, pointy gold earrings and matching high heels.

Sticking to our theme, I picked a metallic gold nail polish and a navy blue polish for this nail art. Other than those, all you need is a top coat, a scotch tape and a pair of scissors.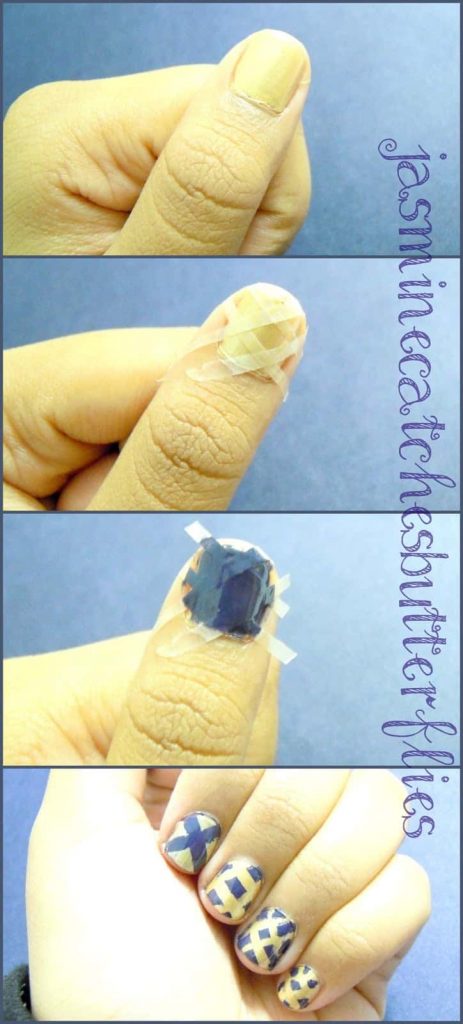 Step 1: First of cut your tape into thin strips. You need four for each nail.
Step 2: Paint your nails with the gold polish as a base or you can use navy blue for the base too like I did for my index finger.
Step 3: Stick the tape strips on your nails in a criss-cross pattern as shown in the photograph. I used 2 strips instead of 4 for my index finger.
Step 4: Go over with the navy blue polish if your base is gold. Let it set for a few seconds.
Step 5: Before the nail polish completely dries out, peel off the tape strips carefully.
Step 6: Go over with a top coat to seal your masterpiece and ta-da!
It feels good to be back on the blog, and I wish I could publish everything all at once but there are so many minute details to be taken care of that it's not possible to churn out posts all at once! 😀 I'll be posting as often as possible now so stick around.
What are your New Year dressing up ideas? 🙂 x