Hello guys, I hope you're all doing well.
This is my first Someday Summary and note that I won't be doing it everyday, rather only when I have something that I want to share with you guys from that particular day or even the past week, just like a Week In Photos post I did a few months earlier!
Today is Saturday (obviously!) and we had Eid-Milad-un-Nabi (that is Holy Prophet (pbuh) Birthday) celebrated yesterday so it was off, that made this weekend a long one luckily! Even though government had announced Thursday off too but my university wasn't closed. Fortunately I have a short timetable for Thursdays and I get off early, so relaxing at home after a much hyped about, tiring week at university, I finally got some time to rest.
I'll be utilizing this weekend to prepare blog posts and running some personal errands before I get extremely busy with bio-medical engineering. University only started this Monday, and I already have Applied Physics surprise test due next week so you can imagine how tough things might get in future. Not to mention, we were ragged on our first day but as long as it was all just a bit of light-hearted fun, I'm cool with that, though I hope they give us a welcome party too now! Anyways, I have got studying to do but my brother came this Tuesday on his vacations from Islamabad and I have to cook a lot to treat both of us, therefore I might be baking pizza tonight if I get cheese!
Moving on, look what I got today from an Uncle of mine who recently returned from a trip to SA! 🙂
I'm so excited about the Victoria's Secret Dream Angels Desire Set! 😀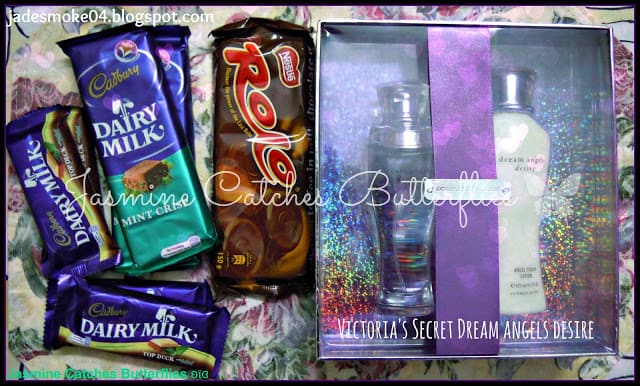 I hope you all have a lovely weekend! 🙂 xo
Like my FACEBOOK PAGE & add it to your interest list for updates.
Check my sidebar to Follow Me Around & Grab My Button! x
Don't forget to comment, follow, subscribe! 🙂